Maintain That Shiny New Look
As ceramic and porcelain tile are being produced, they are put through a kiln which heats the tile and provides the surface with a glazed shiny look. This glazed finish makes your tile appear shiny and is very much like a thin glass coating on the surface. Without proper protection, this shiny glaze can begin to degrade over time. This is caused by the need to use acidic and abrasive cleaners in an attempt to clean or maintain the surface. The shiny finish is worn away leaving the tile with a dull and aged look. The damage is irreparable. HydroShield Space Coast has the solution! With a single application of HydroShield for Tile & Porcelain, you can protect the shiny glazed finish of your tile and eliminate the need to use acidic and abrasive cleaners. We can keep your tile looking new for years to come.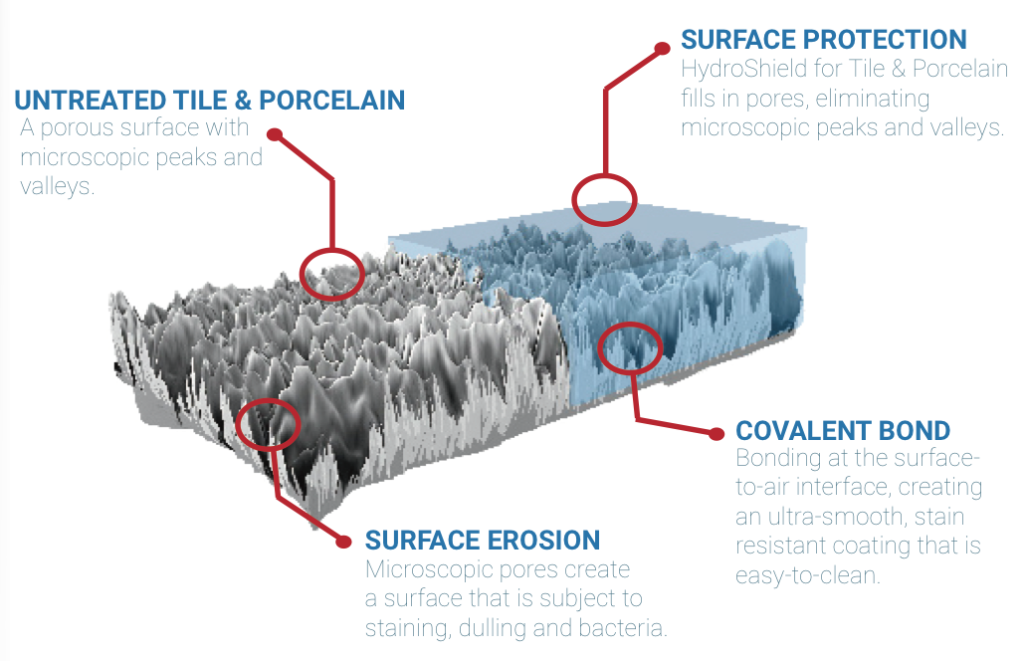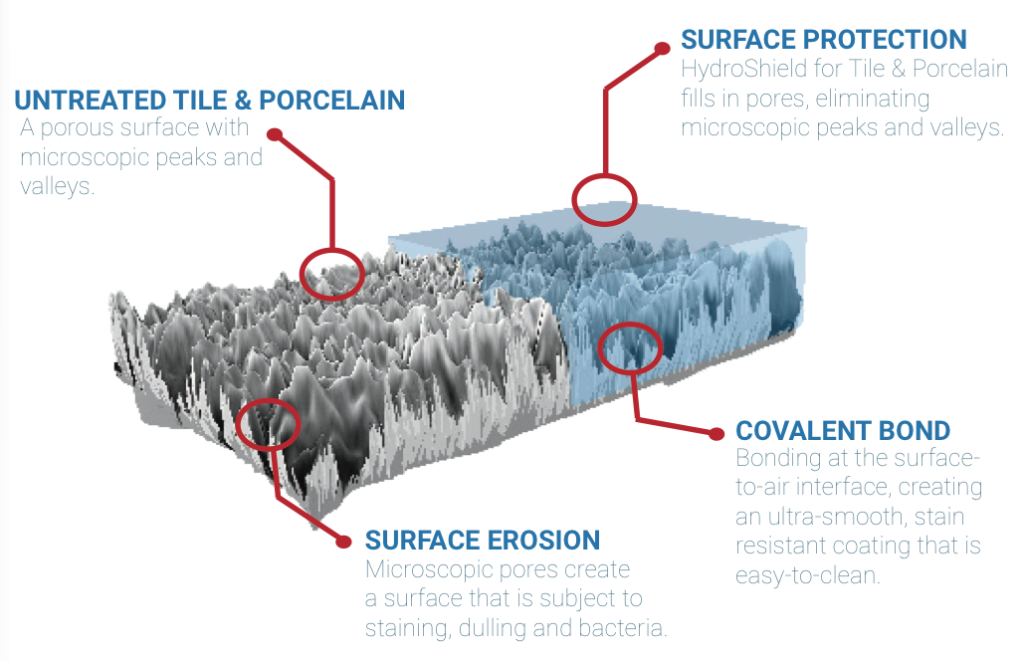 Innovative Protection, Making Life Easier
At the microscopic level, untreated tile and porcelain have pores or microscopic peaks and valleys. Minerals from hard water, soap scum, and other contaminants settle into these pores and require acidic or abrasive cleaners to remove. Our innovative protection for tile and porcelain creates a covalent bond at the surface-to-air interface, completely filling in and eliminating the microscopic pores.The result is a high-performance, invisible coating that makes tile and porcelain surfaces easier to clean and less susceptible to staining and damage. By eliminating the need to use harsh, acidic or abrasive cleaners, tile and porcelain retain their shine for years to come.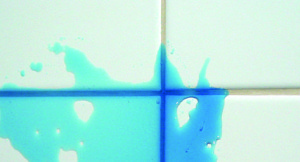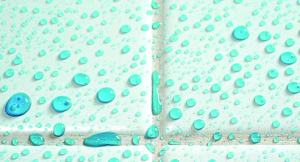 You Will Love The Difference
HydroShield for Tile & Porcelain provides a highly durable, slick finish to your ceramic and porcelain surfaces. The result is tile and porcelain that stay cleaner longer. Our innovative protection makes your tile and porcelain easy to clean, reducing maintenance by 75%. Clean up can be as simple as a quick once-over with water and a towel. Really, it's that easy!
Throw Away Those Harsh and Toxic Cleaners
Not only will you see a drastic reduction in the amount of time it takes to clean your Melbourne home, once HydroShield is applied, but you can also throw away those harsh chemical cleaners. This creates a more eco-friendly environment for Florida as well as a kid-safe zone by eliminating all of those products you must keep from their reach. 

More Than a Warranty, It's Peace of Mind From a Company You Can Trust
HydroShield for Tile & Porcelain comes with a 3 to 5-year warranty. We are a locally owned and operated business. We stand behind every application that we do. If you have a question or concern, you call a local number, not a toll-free number where you sit on hold and hope for a solution. We have technicians that come to you and provide superior customer service.
HydroShield Tile Protection prevents damage before it has a chance to occur. Because our coating fills in the microscopic pores of the tile and creates an irreversible bond, your tile will continue looking new for years to come. Relax, we have you covered!
HydroShield for Tile & Porcelain Advantages:
Outlasts and outperforms all other sealants on the market.

Protects the showroom shine of tile and porcelain.

Does not alter the texture or the appearance of the tile or porcelain surface.

Prevents hard water damage and staining.

Reduces maintenance time by 75%.

Eliminates the need to use harsh chemical cleaners.

Eliminates replacement costs.
We have solutions for all of your surface protection, sealing and restoration needs. Schedule your free bid today!