The Way Granite Should Be
HydroShield for Granite eliminates all of these concerns. With a single application, you will receive up to 15 years of protection.  Our innovative protection for granite does not evaporate, so you don't have to guess if your granite is protected.
HydroShield for Granite transforms granite from good to amazing. By bonding to the surface of the granite and creating an ultra-smooth, invisible barrier, the first thing our customers notice is just how silky smooth their HydroShield protected granite feels. The granite becomes stain-resistant, anti-bacterial and easy-to-clean. We provide our customers with long-term peace of mind with a single application guaranteed to last up to 15 years, transforming granite into a low-maintenance, easy-to-clean surface.  Relax, we have you covered! 
Preventing Bacteria and Easy to Clean
Our revolutionary HydroShield for Granite eliminates the microscopic pores where bacteria can reside and multiply. After food preparation with raw food such as poultry, it is important to know that any harmful bacteria can be easily removed without using an aggressive cleaner that can cause damage to the granite surface. With HydroShield for Granite, clean-up is a breeze.
Curious to know if your granite needs to be protected? Dampen a dish cloth with water and allow it to sit on your countertop for about 10 minutes.  If your granite darkens, contamination and moisture are penetrating into the stone, creating an unsanitary environment, requiring protection.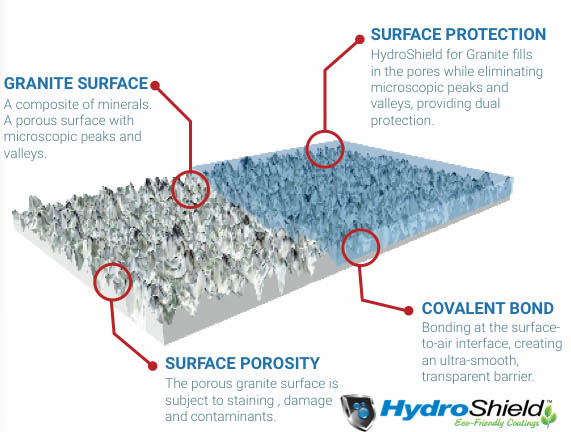 Superior Protection Backed by 20+ Years of Experience
We know that claiming HydroShield for Granite is the best granite protection on the market is bold. Our claim is backed by 20+ years of experience and over a million applications. "Trusted" and "proven" are just a couple words our customers use when asked why they chose HydroShield. Our innovative granite protection is unique. It is unlike any other sealant on the market because of the dual protection it offers. This dual or hybrid protection not only penetrates the granite to protect it from the inside out, it also provides a barrier of protection to the surface of the granite. The result is an easy to clean, highly durable and stain resistant granite.
Hydroshield For Granite Advantages:
The only product in the world that covalently bonds to the surface of granite

Does not alter the appearance of the granite surface

Prevents hard water damage and staining

Makes granite easy-to-clean

Up to 15-Year True Warranty
We have solutions for all of your surface protection, sealing and restoration needs. Schedule your free bid today!